May Wen, CEO and Founder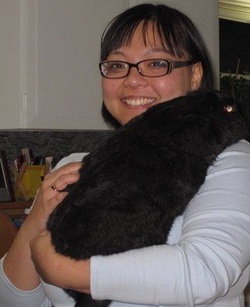 I grew up in a family that firmly believed a home isn't a home without a furball running around. So I've had years of experiences with a variety of animals- big and small. In fact, the only animals I don't work with are spiders!

I do this because I love animals and understand how scary it can be when you have to leave your home and loved ones with strangers. I have been called New Orleans's own Pet Whisperer by friends, family and clients alike. I have always had a gift of communicating with animals and believe this is my Life calling. I am here to help both humans and animals develop a better relationship with each other.

Now, one of the most common complaints from my clients is that their furry companions seem to prefer my company to theirs! I believe it's because I genuinely care about them and work hard to fulfill their wishes. In return, I get their undying appreciation, which is usually reserved for a select mom and dad. So I rapidly become the human and animal's best friend.

Therefore, whichever services you use, you will have some very happy cats and dogs! Or ferrets, gerbils or whatever furry baby you like. I really love them all.

To contact May, please email: may@homewardboundservices.com
---
Julie Tieu, Boarding Facilitator aka Grandma Extraordinarie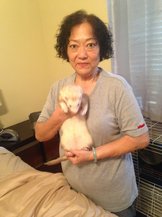 What is life without furry creatures to share it with? At least that's always been my motto!
I don't have any grandchildren, so I have an abundance of love with two grown children who are too busy for their retirement age mother. When
Homeward Bound Services
started, it was a dream come true to have my small home be filled with friendly and sweet dogs. To have such a well-behaved pack made these walls fill with laughter and joy again. I never thought I would cherish wiping the dirty paws of these canines as much as I enjoyed laying with them on the couch or watching them decide which bed to settle into for the night. Gardening hasn't been the same without the help of some many furry buddies helping me dig holes- and three months later, eat the fruits of our labor without sharing!
It's been wonderful to know that my limited English hasn't prevented the language of love to infuse each dog that comes into my home. I hope to meet yours soon.
If you wish to contact me, please email me at:
julie@homewardboundservices.com
---
Don't delay. Contact us today!
​504-408-1427 (1HBS) or mail@homewardboundservices.com